SUNRAIL™ NAUTILUS
The SunRail™ Nautilus stainless steel cable railing design combines the modern look of stainless steel cable railing with our polished or brushed stainless steel rails.
RAILEASY™ CABLE RAILING
The RailEasy™ Cable Railing System combines the natural beauty of wood with the streamlined look of patented RailEasy™ fittings and cable.
SUNRAIL™ LATITUDE
The SunRail™ Latitude system with wood (customer supplied) handrail is comprised of mechanical swage tensioners to allow for cable railing infill.
ATLANTIS RAIL CABLE RAILING SYSTEMS FOR DECKS, BALCONIES + STAIRS
Atlantis Rail offers a complete line of stainless steel cable railing systems. This innovative collection of low maintenance railings offers unobstructed views capable of fitting any indoor or outdoor, commercial or residential design. Our railing systems have been designed for assembly using a collection of patented railing fittings and components to allow for the delivery of turn key stainless steel railing systems at a low cost. Atlantis Rail designs and manufactures stainless steel railing systems to client specifications, making it ideal for all applications by offering a complete line of deck railing systems and components to suit every need.
RailEasy™ Cable Railing
RailEasy™ Cable Railing combines with most wood, composite or vinyl rail frames to provide unobstructed views.
Spectrum System
The Spectrum Cable Railing System is a customer favorite featuring 1 ½ x 1 ½ inch post made of heavy gauge stainless steel and powder coated for maximum durability.
SunRail™ Nautilus
The SunRail™ Nautilus stainless steel cable railing design combines the modern look of stainless cable railing with our polished or brushed stainless steel rails.
RailEasy™ Nautilus Cable Railing
The RailEasy™ Nautilus cable railing system design adds stainless steel railing for an exotic look.
NOVA II Cable Railing
The NOVA II System features powder-coated aluminum posts, guardrails and foot rails and horizontal cable infill.
Glass Railing Systems
Atlantis Rail Glass Railing Systems are available in versions of SunRail™, Spectrum and RailEasy™.
ENJOY
YOUR
BEAUTIFUL
VIEW
Browse through our photo galleries to view Atlantis Rail products in the wild.
WHAT IS CABLE RAILING?
Cable railings (also known as cable railing systems and wire rope railings) are a low maintenance alternative to traditional wood or metal railings. Quite simply, they are guard rails and hand rails that use horizontal cables in place of traditional spindles, glass, mesh, etc. for infill.
Cable Railing Code and Safety Facts
Many customers have never worked with Cable Railing previously or have some ideas that may be founded in traditional construction knowledge, but not applicable to Cable Railing today. Let us explain the basic factors regarding code and safety.
Cable Railing Design
A Cable Railing System can be composed of a variety of materials including wood, metal and some plastics or composite materials. These materials are often mixed in a design to create a hybrid system like no other. Cable Railing is a unique railing design in itself, but with a little imagination it becomes one of a kind.
What is Stainless Steel
Stainless steel is a relatively new material compared to copper, steel and other commonly used metals so there are some misunderstandings regarding the material. The practice of making good stainless steel is not simple, but understanding the elements that make good stainless steel is fairly straight forward.
Maintaining Stainless Steel Cable Railing
Maintaining a Stainless Steel Cable Railing is not much different than maintaining a nice car.
Limiting maintenance begins the day you install your cable railing by giving it a thorough washing immediately after install, and skipping this step because all looks new and shiny is a big mistake.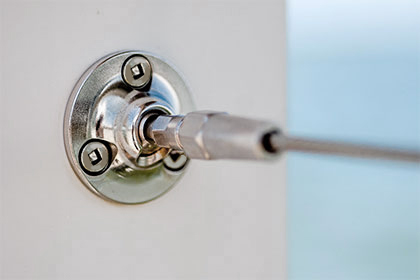 How to install Cable Railing the RailEasy™ way! Let us help guide you through the proper design and installation of the RailEasy™ Cable Railing System.
Looking for railing for your home that will keep your view unobstructed? Consider cable railing. Learn why cable railing is a great option and investment.
Have a question about our products or need help with installation? Fill out our form an expert will be in touch with you to provide more information.