If this is your first time handling or purchasing cable railing, you may find yourself struggling with the technical details. Cable type, size, grade and their impact on the eventual railing structure are important details in your cable railing project. This guide will help you make an informed decision on your cable railing finishes.
Cable Type
Assuming that you're not shopping for luxury finishes such as bronze and pure nickel, there is one primary cable material:
Stainless Steel
Stainless steel is tough and durable. It also contains a healthy dose of chromium that makes it extraordinarily corrosion-resistant and, therefore, ideal for locations with harsh weather. Unfortunately, steel is susceptible to rusting, which can affect its appearance over time. Be aware that stainless steel is available in a variety of grades, some of which are coastal graded.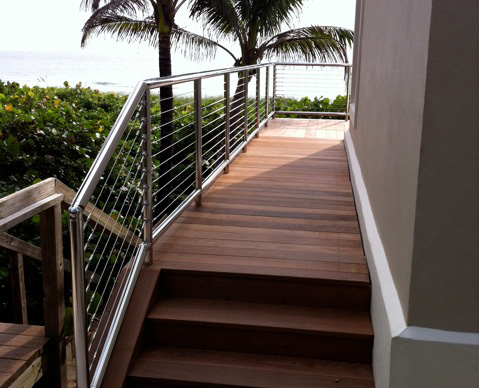 Cable Grade
Stainless steel, which is the most popular cable railing material, comes in multiple grades. The three most common categories are:
Galvanized stainless steel cables are the cheapest railing cables available. While the powder coating protects them to some degree, the cables can rust if used in coastal areas. But away from saltwater, the galvanized steel will last for years with proper maintenance.
If you're on a low budget, grade 304 stainless steel is a great choice. It's not only very durable but also easier to maintain and more resistant to rust. The 304 is soft, making it easy to trim, mold, or bend but is not recommended for coastal areas as the saltwater can cause rust.
Your best option is grade 316. The inclusion of molybdenum drastically enhances the 316's corrosion resistance. This is especially true in more saline or chloride-exposed environments, making grade 316 the perfect choice for coastal areas.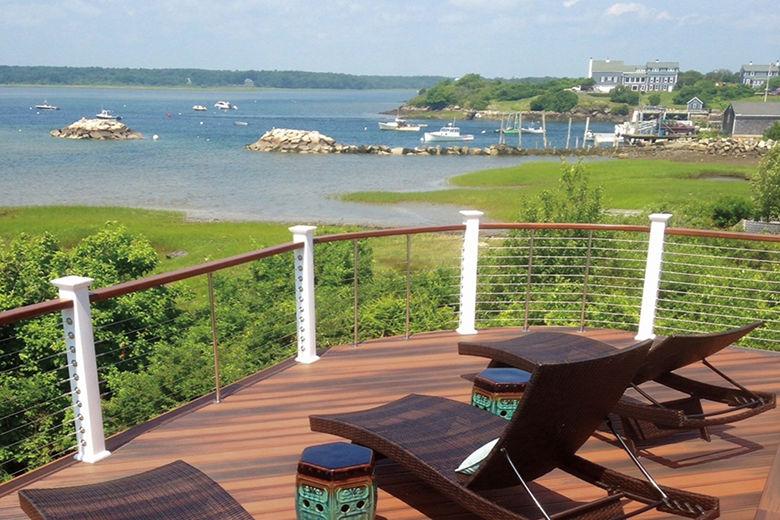 Cable Strands
When it comes to cable strands, there are multiple options from which to choose. The following are some of the most popular:
The 1×19 is the universally recommended railing cable strand. It comprises one group of 19 wire strands woven together. Given that there's only one group, the 1×19 is very stiff. The advantage of this is that it is rigid and durable. Additionally, once tensioned, it maintains the tension for a long time. The stiffness, however, means that the 1×19 can be a little challenging to get around corners and bends.
The next most popular strand is the 7×7. The 7×7 comprises seven groups of wires, each group consisting of seven strands. It is a medium-stiff and moderately flexible cable, therefore much better for corners and bends. The 7×7 strand configuration is not recommended for cable railing projects due to its flexibility.
Cable Diameters
Lastly, you should consider cable diameter. There are three main railing cable diameter categories (in inches):
1/8″: The one-eighth is the best option for horizontal railings in areas with little or no pedestrian traffic or where the railing system doesn't need to meet code requirements.
5/32": This is most commonly used for cable railings. Though it's a little thicker than the one-eighth, it's not too difficult to get around corners and bends.
1/4, 5/16, and 3/8: These are thicker cables recommended for applications where a larger diameter would boost visual appeal.
There You Have It!
When shopping for cable railing, check each category above to select the qualities that best match your cable railing needs. So you get the cable railing finishes that best suit your project. Most experts will recommend a 1×19, 5/32" grade 316 stainless steel cable railing system for any area.